Books, guides
nautical charts
Skip over navigation
BookDeposi…
Home
Nav. course
Sailing Greece
Turkish Coasts
Yacht charter
Gulets





BookDepository
Amazon.com
Amazon.co.uk
Amazon.de Planning your sailing vacation involves lot's of reading, which is half the fun!
Below I have selected the most indispensable books, guides & nautical charts for you that are available through The BookDepository, which usually offers much lower prices than Amazon as well as free delivery!
I receive a 5% referral fee from

, so please purchase your books through the links below ☺
Pilot guides to Greece and Turkey
The ultimate pilot guides for Greece
The publications from Eagle Ray are the most detailed pilot charts available! Other guides are derived from these.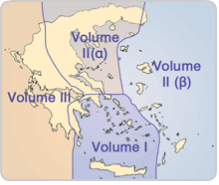 "Greece, Sea Guide" is a series of four A3 sized books that cover the whole of the Greek coastlines and seas, as follows:

Volume I: Saronic and Argolic gulf, Cyclades, Crete € 90

Volume II, Part 1: Evvoia, Sporades, Northern mainland € 90

Volume II, Part 2: Islands of Eastern Aegean € 90

Volume III: Gulf of Korinth, Gulf of Patras, Ionian Sea € 90

Corrections - Notices to Mariners
Nautical charts of Greece and Turkey
Note that Amazon.co.uk usually offers more choice in charts!
G2 Aegean Sea (North)

This Imray Chart is a passage chart.

Approaches to Istanbul, Izmit Körfezi, Çanakkale Bogazi (The Dardanelles)

Scale 1:750,000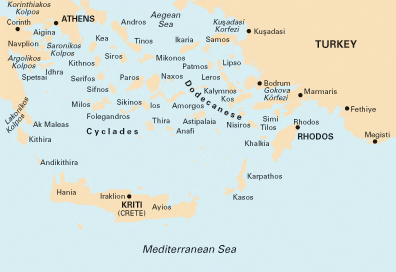 G3 Aegean Sea (South)

This Imray Chart is a passage chart.

Scale 1:750,000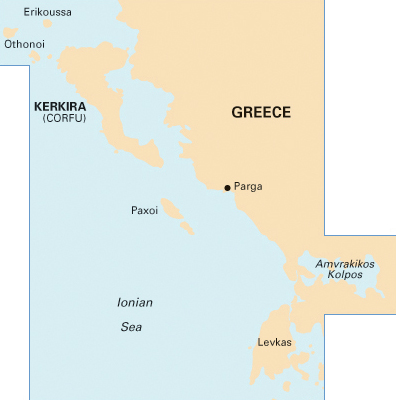 G11 North Ionian Islands

This Imray Chart covers Corfu to Lefkas, Paxos and mainland Greece.

Plans Continuation of North Ionian Islands to Othoni island, Vorion Steno Kerkiras, Ormos Gouvion (Gouvia Marina), Kerkira (Corfu Town), Parga Bay, Continuation of Amvrakikos Kolpos, Limin Alipa (Kerkira), Lakka Bay (Paxoi), Port Gaios (Paxoi)

Scale 1:185,000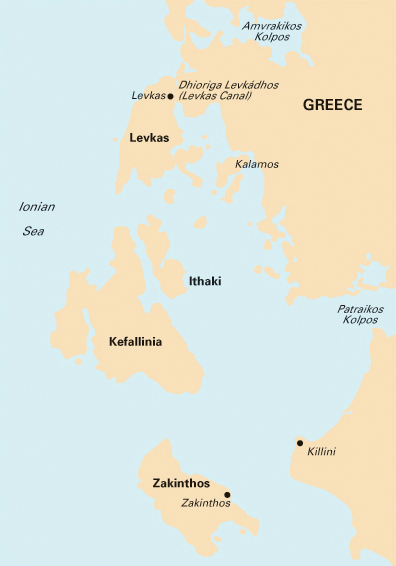 G12 South Ionian Islands

This Imray Chart covers Zakynthos, Kefalonia, Ithaka, north-east Peloponese (entrance Patras Gulf), mainland Greece.

Plans Levkas Canal, Kolpos Aetou (N. Ithaca), Ormos Argostoliou (N. Kefallinia), Zakynthos bay

Scale 1:190,000
G121 Inland Sea

This Imray Chart covers the inland sea, Ionian: Lefkas, Meganisi, Ithaca, and part of the mainland and Kefalonia.

Plans O. Ayias Eufimia (N. Kefalinia), O. Frikou (N. Ithaca), O. Fiskardo (N. Kefalinia), Vasiliki (N. Levkas), Levkas Canal, Kalamos Harbour

Scale 1:95,000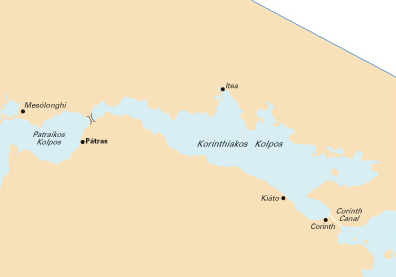 G13 Gulfs of Patras and Corinth

This Imray Chart covers the Gulf of Patras and the Gulf of Corinth.

Plans Mesolongion, Limenas Patron, Rion - Antirion bridge, Ormos Aiyiou, Krissaios Kolpos, Ormos Andikiron, Kiato, Ormos Loutrakiou, Dhiorix Korinthou (Corinth Canal)

Scale 1:220,000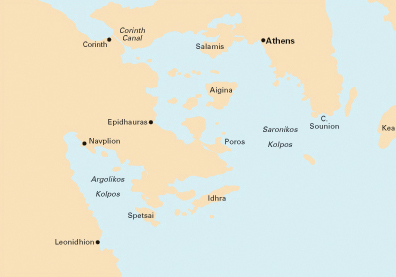 G14: Saronic and Argolic Gulfs

This Imray Chart covers Athens, the Argolic Gulf, the Saronic Gulf, Poros, Methana, Aegina, Salamis, Corinth Canal, Cape Sounion, Lavrion, Hydra, Spetses, Leonidion, Navplion, entrance of Corinth Gulf.

Plans Ormos Falirou, Marina Alimos (Kalamaki), Limin Aigina, Limin Porou, Steno Spetsai, Navplion

Scale 1:190,000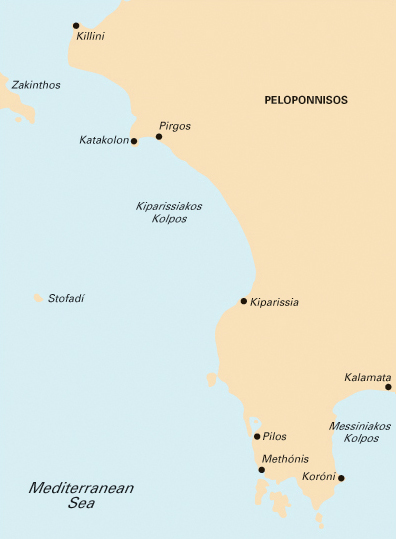 G16: Western Peloponnisos

This Imray Chart covers the Ionian Sea from Zakynthos till Kalamata on the western Peloponese.

Plans Killini port, Katakolon port, Kiparisia bay, Ormos Navarinou, Steno Methonis, Kalamata port

Scale 1:190,000
G25: Northern Sporades and Evvoia (Euboea)

This Imray Chart covers north Evvoia (Euboea) island and the Northern Sporades, Volos.

Plans Ormos Skiathou (Skiathos), Steno Alonnisou, Linaria (Skiros), Continuation of Maliakos Kolpos

Scale 1:190,000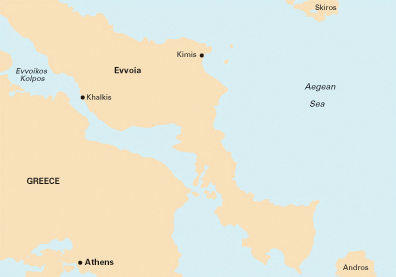 G26: Evvoia (Euboea)

This Imray Chart covers Evvoia (Euboea) island, south tip of Skyros (Northern Sporades) and the the north tip of Andros.

Plans Linaria (Nisos Skiros), Kímis (Nisos Evvoia), Approaches to Khalkis, Erétria (Nisos Evvoia), Limenas Aliveriou (Nísos Evvoia), Rafina, Porthmos Evripou, Dhiavlos Steno

Scale 1:190,000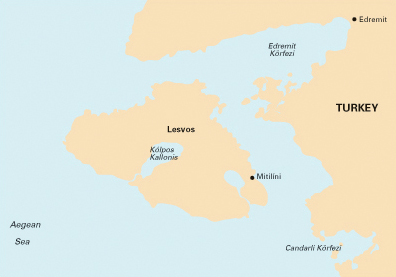 G27: Lesvos and Coast of Turkey

This Imray Chart covers the Lesbos (Lesvos) and the adjacent coast of Turkey.

Plans Ayvalik (Turkey), Sigri (N. Lesvos), Entrance to Kolpos Kallonis (N. Lesvos), Entrance to Kolpos Yeras (N. Lesvos), Mitilini (N. Lesvos), Bademli Limani (Turkey)

Scale 1:190,000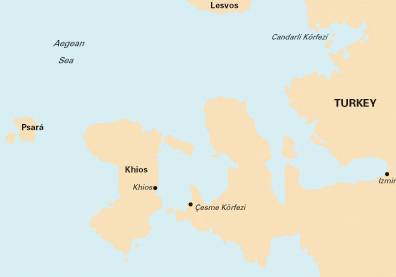 G28: Khios and Coast of Turkey

This Imray Chart covers the Eastern Sporades including Chios and Psara, the south tip of Lesbos (Lesvos) and the adjacent coast of Turkey and Izmir.

Plans Ormos Mandraki (N. Oinoussa), Approaches to Khios (Chios), Approaches to Psara (N. Psara), Cesme Korfezi (Turkey), Foca Limani (Turkey), Sigacik Limani (Turkey).

Scale 1:190,000
G31: Northern Cyclades

This Imray Chart covers the islands of Kea, Kythnos, Serifos, Siros, Andros, Tinos, Mykonos, Delos and the south tip of Evvia as well as the north tips of Paros and Naxos.

Plans O. Mikonou (N. Mikonos) O. Gavriou (N. Andros), Limin A. Nikolaou (Nisos Kea), Limin Sirou (N. Siros).

Scale 1:200,000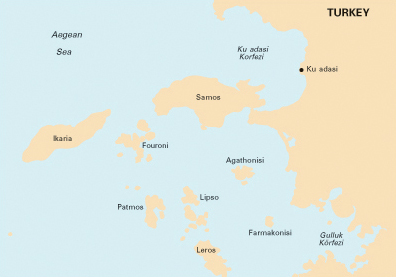 G32: Southern Sporades and the Coast of Turkey

This Imray chart covers the islands north of the Dodecanese: Samos (detailed chart of Pythagion marina, the main yacht charter base), Ikaria, Fournoi, Patmos, Lipso, Arki, Farmakonisi and Gaidharos (Agathonisi) plus part of Leros island and the adjacent Turkish Ionian coast stretching from Kusadasi to Gulluk.

Plans Kusadasi Liman (Turkey), Limin Karlovasi - N. Samos (Greece), Limin A. Kirikou - N. Ikaria (Greece), Steno Samou - N. Samos (Greece), Limin Pithagoriou - N. Samos (Greece), O. Patmou - N. Patmos (Greece)

Scale 1:189,700
G33: Southern Cyclades (west sheet)

This Imray chart covers the islands of Serifos, Sifnos, Antiparos, Paros, Naxos, The little Cyclades (Karos, Iraklia, Skinoussa, etc), Ios, Santorini (Thira), Sikinos, Folegandros, Poliagos, Kimolos and Milos.

Plans Steno Kimolou (N. Kimolos), O. Livadhiou (N. Serifos), Steno Andiparou (N. Paros), O. Naxou (N. Naxos).

Scale 1:190,000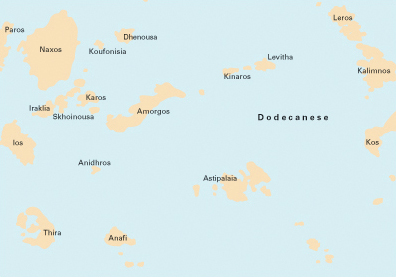 G34: Southern Cyclades (east sheet)

This Imray chart covers the islands of Naxos, The little Cyclades (Karos, Iraklia, Skinoussa, etc), Dhenoussa, Amorgos, Kinaros, Levitha, Leros, Kalymnos, (east tip of) Kos, Astypalaia, Anafi, Santorini (Thira) and Ios.

Plans O. Kalymnou (N. Kalimnos), O. Maltezana (N. Astipalaia)

Scale 1:200,000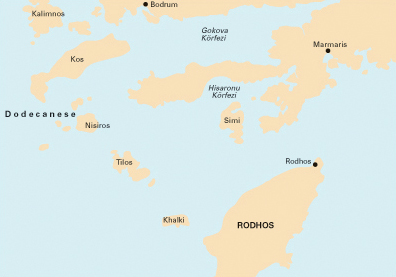 G35: Dodecanese and the Coast of Turkey

This Imray chart covers the Dodecanese islands of Leros, Kalymnos, Pserimos, Kos, Yiali, Nisyros and Tilos. Chalki plus north east part of Rhodes and Simi island. The Turkish Carian coast (Bodrum and Marmaris)

Plans Bodrum (Turkey), Rodhos - N. Rodhos (Greece), Kos & Kos Marina - N. Kos (Greece), Marmaris (Turkey), Limin Simi - N. Simi (Greece).

Scale 1:190,000
G36: Marmaris - Geyikova Adasi - Lycian Coast Turkey

This Imray chart covers the south coast of Turkey: from the north tip of Rhodes island and the adjacent Lycian coast of Turkey from Marmaris, via Gocek, Fethiye, Kalkan to Kas.

Plans Marmaris, Skopea Limani, Approaches to Meyisti and Kas, Rodos, Fethiye, Gocek

Scale 1:200,000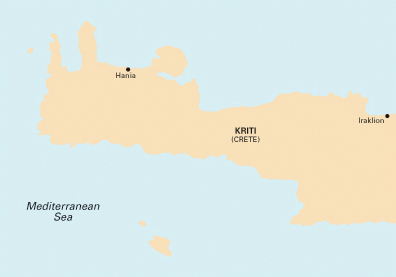 G37: Crete - West

This Imray chart covers the western part of Crete.

Plans Kali Limenes, Ormos Ay. Galinis, Paleohora, Gramvousa Bay, Chania, Souda Bay, Rethimno

Scale 1:190,000
G38: Crete - East

This Imray chart covers the eastern part of Crete.

Plans Iraklion, Sitia, Ayios Nikolaos, Spinalonga

Scale 1:190,000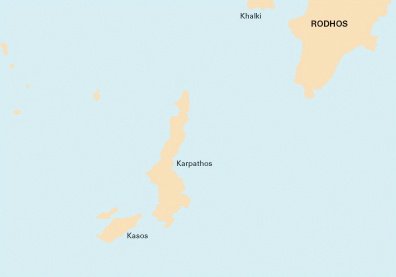 G39: Karpathos to Rhodes

This Imray chart covers the forgotten area south-east of Rhodes: Karpathos and Kasos islands.

Plans Ormos Pigadia (Karpathos), Lindos (Rhodes), Ormos Fri (Kasos), N. Khalki to N. Alimia.

Scale 1:190,000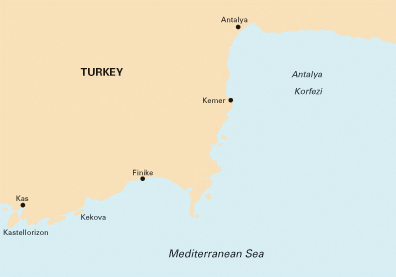 G40: Kas to Antalya, Turkey

This Imray chart covers the east Lycian coast of Turkey: Kas, Finike, Kemer, Antalya: Antalya korfezi and Kastellorizon.

Plans: Kekova Demiryeri , Kemer Marina , Finike , Antalya , Setur Antalya Marina , Approaches to Kas and Meyisti.

Scale 1:200,000