"The 8 steps towards a successful sailing holiday"
1.

Where to sail

Greece  –  The myriad islands that dot the Greek waters, together with the mainland, sport a coastline of 15000 km. These enchanting shores are much indented, offering shelter in natural harbours, picturesque ports and a cornucopia of ancient history.
Eleven criteria to choose between these different Greek areas and a top 10 of the finest islands in Greece.
Turkey  –  A sailing holiday along these captivating coasts combines the ancient Greek, Ionian, Carian, Dorian and Lycian cultures, with the present-day exotic smells of the orient. Pine clad mountains overlook translucent blue bays and marvellous ports. The Turkish cuisine is regarded as one of the best in the world.

Most Greek and Turkish ports can be reach by frequent (domestic) flights and ferries.
Croatia & Adriatic Sea   – Tranquil sailing conditions, blue water anchorages in lush green surroundings (Kornati islands), Venetian history and medieval castles: Šibenik, Zadar, Split, Dubrovnik.
3.

Bareboat, flotilla, crewed or gulet charter

If you bring your own yacht there are lots of formalities.

With a yacht charter in mind, a bareboat charter – without hired captain or crew – will give you total privacy and independence, yet besides you as skipper, a second member of your group should be able to sail. With more than 12 persons it is best to rent a second yacht or catamaran

If you feel rusty, you can always hire an instructor for just the first day(s); also study the first 5 chapters and chapters 9 and 10 of my celebrated navigation course Moreover, see flag etiquette, forecasting by clouds and the Mediterranean mooring & anchoring course.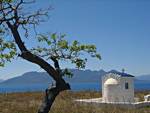 If you need more guidance, a flotilla still offers a lot of privacy, while safely sailing along in a fleet of yachts towards the next port. You will skipper your own yacht, but a flotilla leader will keep a close eye on you. An added bonus for children is the possibility to make friends on the other yachts.
However, if you find a flotilla too restrictive, yet a regular bareboat too much responsibility, you should consider the assisted bareboat charters , the golden mean.
You will get full assistance with a crewed charter. Options are a skipper hostess, cook as well as an instructor from a RYA or ASA sailing school.
A gulet cruise is perhaps one of the most luxurious crewed charters around.
4.

Type of yacht, gulet, catamaran

Only a small fraction of yachts in the east Mediterranean are motor yachts and a lot of these are motor sailers and come fully crewed.

For bareboat chartering you can choose between smaller motor yachts (~2%), catamarans (~20%) and a huge fleet of sailing monohulls: more on choosing your ideal charter yacht.
5.

Finding a reputable company – fleet owner

Many members of the sailing community have shared their charter experiences with me.
Advice on reputable:

It is urged to avoid a last-minute, since most last minute yacht charters are actually much more expensive instead of cheaper. Therefore, best to book your sailing holidays 6 – 12 months in advance!

Important advice!
Only sign a contract with the fleet owner, not with an agent or middleman! The yacht's name and the yacht's owner should be indicated on the contract.
6.

Itineraries

The main charter bases are: Athens, Paros, Corfu, Preveza, Lefkas, Skiathos, Kos, Rhodes, Marmaris, Bodrum and Fethiye, Göcek.

One-way charters between these ports should preferably be downwind, roughly speaking from north(west) to south(east), see these oneway itineraries.

I have prepared itineraries for the Cyclades, the Ionian, the Dodecanese and the Argo-Saronic, and when you have more time: Itineraries up to several months  and passages around the Peloponnese. Furthermore, it is possible to cross the border from Greece to Turkey and re-enter again, see sailing between Greece and Turkey.
Combining the Ionian and the Aegean in 3 months.
Sailing the Aegean one month and longer.
Culture: ancient sites and temples and Greek cities & archaeology.
7.

Provisions and costs

On a bareboat you buy your own groceries, water, fuel, ice and pay harbour fees in a few marinas or ports. Cooking gas, dinghy, Wi-Fi and linen are included in the charter fee, whereas the outboard engine, spinnaker/gennaker, airport transfer, end cleaning, etc. are extra. More on budget yacht charters.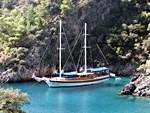 Gulets • Blue cruises Turkey (pix)
On a crewed yacht or catamaran charter, the captain and crew will receive dining fees, plus a tip or gratuity if satisfied.
Gulet cruises are usually all-inclusive, yet extra harbour fees should be expected when a Turkish vessel enters a Greek port.
There might be extra charges for one-ways as well as charter periods outside the standard Saturday to Saturday. More on charter provisions and costs.
8.

Register, donate

By registering you will join an active and critical sailing community that collects and shares information on sailing holidays and charter companies.

When all is arranged please consider a donation to Kiva, the Help Burkina Foundation, or my own website (PayPal) so that you can help keep this critical sailing community online.