Skip over navigation
Flights & ferries
Flights to Greece or Turkey can easily be booked over the internet, which usually means cheaper tickets and more options. This page will enable you to organize your own ideal flights and travel arrangements.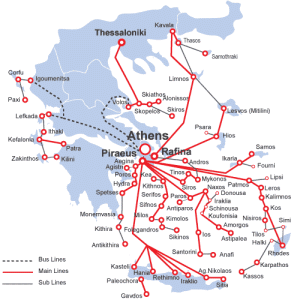 For domestic flights within Greece you can best use Olympic airways and within Turkey the national Turkish airlines are recommended.
Note, that if you located the cheapest tickets for a (domestic) flight on a portal site (that compares flights from all carriers) it might even be cheaper to book directly with the airline company in question, evading the commission of these portal sites.
You can start booking flights the magical number of 330 days ahead, roughly 10 months plus a few weeks. Note that some operators make seats available via their reservations system not 330, but 332 or 328 days prior to the flight date, and that these first seats are usually very cheap. It is very worthwhile to book a flight the very day the seat become available - be sure to feed that date into your agenda!
In Greece as well as in Turkey it is wiser to use a bus or dolmuş rather than a train, if domestic flights are not available.
Click on the map to see the Greek ferry lines.

4 April 2019

©
2000 – 2019
Diederik Willemsen
|

Site map
|
A-Z index
|
Register