Primarily in the east Aegean and along the Turkish coasts you can cruise larger wooden motorsailers called gulets, which are a balanced blend between Turkey's indigenous sea-going vessel and 20th century naval architecture.
The Adriatic Sea - Croatia as well as the Ionian in Greece are also ideal for gulet cruises.
Gulet cruising in short
Despite the variation in length most gulets have accommodation for 6 to 16 guests in 3 to 8 cabins with double hotel like beds. Indeed, for parties larger than 12 persons a gulet offers more options than regular crewed charter yachts. A few gulets can accomodate 20 or even 24 guests.
Gulets and Blue cruises
Caiques, motorsailers, gullets and goulettes are all synonyms for gulets.
Likewise, blue cruises or blue voyages stand for gulet cruises… →
An expert crew of three at least will be at your disposal: captain, chef cook, hostess and / or deckhand.
Besides sun-bathing, there will be activities and excursions: diving, water skiing, windsurfing, jet skiing, dolphins and whales, fishing or visiting archaeological sites and tasting local culture.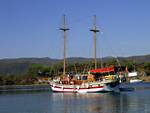 Cabin charter or Private charter
When there is just you and your partner, you can rent a master cabin: a cabin charter and join the 3 to 6 other couples on your holiday in Greece or Turkey.
The gulet will usually take a predefined sailing route
Most luxury crewed charters will only be available as private charter though.
With a private charter or full charter you and your party will have the whole gulet and her crew at your disposal with a decisive say in the route/itinerary and the activities. Just think of it as your own private charter yacht.
Etymology
The term gulet might be derived from the French goulette (schooner) or the old Italian naval vessels galea or galeotta.
The archetype gulet from Bodrum is not a schooner, but is ketch rigged with a sharp bow, broad beam and rounded aft.
These two-masted pine wood vessels, whose main purpose were transport and fishing along the south west coasts of Turkey, are nowadays newly built with the luxury and comfort of charter yachts in mind.
Further reading
The Carian coast of Turkey
The Dodecanese islands
The Cycladic islands
The west Lycian coast as well as east Lycian coast of Turkey
Luxury crewed charters on mega yachts and gulets
Advice on Blue cruises in Greece and the Turquoise coasts
Climate and weather Bodrum