Gulet cruises

Gulets Skip over navigation Primarily in the east Aegean and along the Turkish coasts you can cruise larger wooden motorsailers called gulets, which are a balanced blend between Turkey's indigenous sea-going vessel and 20th century naval architecture.
The Adriatic Sea - Croatia as well as the Ionian in Greece are also ideal for gulet cruises.
Gulet cruising in short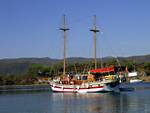 Cabin charter or Private charter
When there is just you and your partner, you can rent a master cabin: a cabin charter and join the 3 to 6 other couples on your holiday in Greece or Turkey. The gulet will usually take a predefined sailing route

. Most luxury crewed charters will only be available as private charter though.

With a private charter or full charter you and your party will have the whole gulet and its crew at your disposal with a decisive say in the route/itinerary and the activities. Just think of it as your own private charter yacht.

Possibly downsides of Gulet cruises
Generally, gulets will rarely sail, which means no participating in the actual sailing or manoeuvring of the yacht, so sailing instruction is not an option, yet some gulets (due to a different construction!) sail really well. And there are several top companies that offer sailing gulets, not vessels with masts without sails.
On smaller charters (standard sailing yachts) you will often sail the yacht together, which enhances team spirit and gives you the change to learn how to sail.
The term gulet might be derived from the French goulette (schooner) or the Venetian galiota. Yet, the archetype gulet is not a schooner, but is ketch rigged with a sharp bow, broad beam and rounded aft. These two-masted pine wood vessels, whose main purpose were transport and fishing along the south west coasts of Turkey, are nowadays newly built with the luxury and comfort of charter yachts in mind.
Gulets are a lot slower than normal motor yachts, which means you can cover less distance, limiting your itinerary options.
A generator also means noise-pollution and filthy diesel fumes, which are certainly not appreciated by your neighbours along the quay.
The majority of these traditional Turkish yachts can be found near their origin: Kos, Bodrum and Rhodes. So, there are less options to cruise a Gulet in the Cyclades, Ionian, Saronic and other must-see sailing areas in Greece and Turkey. Croatia, Italy and the Ionian Sea also offer top gulets.
For unbiased advice on gulet cruises and holidays visit my gulet charters Turkey & Greece page and gulet charters Croatia page.





Related pages:
Flotilla holidays in the Ionian and the Aegean Seas.
Our latest logbook of the one-way trip from Athens to Melos.
The Carian coast, Dodecanese and the Cycladic islands.
Luxury crewed charters on mega yachts and gulets.
Advice on gulet cruises in Greece and Turkey.
gulet cruises in Croatia and the Adriatic.



6 April 2019
©
2000 – 2019
Diederik Willemsen
|

Site map
|
A-Z index
|
Register