For instance via
PayPal
1
With
Kiva
you can loan to the working poor and alleviate poverty in the world. The Kiva website is the first person-to-person
micro-lending
community, empowering individuals to lend directly to unique entrepreneurs in the developing world.
The people you see on the Kiva site are real individuals in need of funding. After the course of a loan – usually 6 – 12 months – you can relend to someone else. I too provide finances, in particular to these people.
---
2
The
Foundation Help Burkina
offers small scale aid to the friendly population of the African country of Burkina Faso.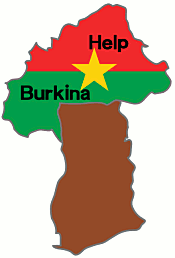 Since 1991 we have planted thousands of trees, drilled waterpumps in little villages, built schools.
More recently a health-centre in Douré and a 3-room primary school in Kokossin. New is the "Foyer des filles": a boarding-school for 40 girls who live in remote villages. Since 2016 a stable for cattle, as well as a kitchen and a meeting place for women. update: the 2018 sanitary/toilet building is constructed in Pouytenga. For 2019 there are new projects envisaged!
If you would like to know more about this charitable institution, please contact me
---
3
Everything on SailingIssues is free, so I appreciate it if you would consider making a donation.
The content of this website is unique – such as my renowned
navigation course
and
charter guidance
.
Please click the button below to donate in Euro
Please click the button below to donate in Dollar
Please click the button below to donate in Pound
To make everything easily available for all, I have:
refused all banner offers, hence no annoying ads
made this site accessible to the disabled
opted for mega fast and expensive servers – plural! – and CDN to deal with the immense and increasing boatloads of visitors
avoided all trackers / cookies such as Google Analytics, etc. that would violate your privacy; this website is really 100% Google, Apple, Facebook, etc. free!
this website is hosted carbon neutral and has a zero carbon footprint
used only (also on the servers) open source software
Thank you for keeping this website free!
Continue reading:
Corfu
Etesians
Thasos
Chios
Crete
Santorini
Charter guide
Tides & astronomy
Sailing Greece
Tinos