Gulet charters

Skip over navigation A lot of visitors have shared their gulet charter experiences with me and you could help others too by reporting your own gulet experiences. These reports show that only a fraction were quite satisfied, moreover,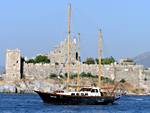 too many were certainly not happy with their gulet charter company. Yet, they have found those few trustworthy gulet businesses, with charter fees that are very competitive, and shared those with me.

The perfect blue cruises are ideally enjoyed along the Turkish coasts (the Turquoise coasts like Caria and Lycia) and the Dodecanese in Greece. Other Greek islands like the Saronic and Argolic Gulfs are also suitable, but the Cyclades (although very pictoresque) can have rather rough winds and waves in August.
The sailing areas in Turkey are rural, pristine and safe since far remote from Ankara or Istanbul. For the Adriatic Sea you can use the page gulet cruises in Croatia - Split & Dubrovnik.
Request gulet charter advice
If you would like me to help you pick one of those trustworthy businesses and to prevent you from embarking with known troublesome companies in Turkey and Greece, please fill out the following form.
Gulet charter costs
Contrary to normal crewed charters, gulet cruises are usually package holidays and the extras like linen, windsurf board, dinghy, outboard engine, transfer from the airport will be included into the charter fee.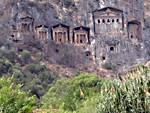 Moreover, you can also include the gourmet dinners on board! Port fees, diesel fuel, etc should be included as well. Note that if you take a one-way trip (for example Bodrum - Marmaris) you will need to return to Bodrum.
Report your gulet experiences
Many visitors have already shared their gulet holiday and by taking the time to fill in the following form you too can help other visitors finding a reliable and trustworthy company. Your report will be treated strictly confidential and will therefore not be passed on to the corresponding charter companies or any other party. Thanks for your time !
Synonyms
Gulets = Motorsailers = Caicco (Italian, plural: Caicchi) = Blue Voyages = Blue Cruises ("Mavi Yolculuk" in Turkish) = Carian Cruise = Caïques = Καΐκι (Greek) = Kaiki = Kayık (Turkish) = Crociere Blu (Italian) = Motor sailers = Tirhandil (Turkish double ender vessel) = Blaue Reise (German) = Motorsegler (German) = Goélettes (French) = Goletas (Spanish)
Related pages:
Details on gulet cruises in Greece and Turkey.
Flotilla holidays in the Ionian and the Aegean Seas.
Our latest logbook of the one-way trip from Athens to Melos.
The Carian coast, Dodecanese and the Cycladic islands.
Luxury crewed charters on mega yachts and gulets.

Further reading:
Indispensable books about (sailing in) Greece and Turkey.



5 April 2019

©

2000 – 2019

Diederik Willemsen

|

Site map
|
A-Z index
|
Register