Gulet charters Greece & Turkey
A lot of visitors have shared their gulet charter experiences with me and you could help others too by rating the gulet company you cruised with. These reports show that only a fraction were satisfied, moreover, too many were quite displeased with their gulet.
Yet, they have found those few reputable gulet fleets – with charter fees that are remarkably competitive.
The best blue cruises are, by preference, enjoyed along the Turquoise coasts in Turkey and the Dodecanese in Greece.
Other Greek venues like the Saronic and Argolic Gulfs are also suitable, but the Cyclades (although very picturesque) can be subject to rough winds and high waves in the summer months.
The sailing areas in Turkey are decidedly bucolic, pristine and risk-free since worlds apart from Ankara or İstanbul.
For the Adriatic you can use the gulet cruises in Croatia – Split, Dubrovnik page.
Request charter information
If you would like me to help you find those reliable gulets and rather prevent you from embarking with known troublesome companies, please e-mail me or use the following form. I hope you stay clear of gulet owners that focus on advertising / promises instead on service and maintenance!
So, to find the best local blue cruises for you, feel free fill out the form below to receive a personal and human response.
Charter advice request form
Note, that you cannot use the forms if you are related to the travel industry: this free service is for consumers only !
If the form doesn't work you can also use e-mail.
Please mention your weekly budget, which period and how many weeks, preferred sailing area and with how many cabins you require, etc, so that I can help you better.
Gulet charter costs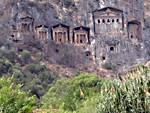 Contrary to normal crewed charters, the best gulet cruises are package holidays and extras like WiFi, linen, jet skis, half board, transfer from the airport will be included into the charter fee, plus you can include gourmet dinners i.e. "full board"! Moreover, port fees, diesel fuel, etc. are often included as well. One-way cruises (for example Bodrum → Marmaris) will require a "one-way fee" to return the gulet to her home port after your cruise.
Report your gulet cruise experiences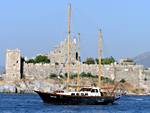 Many visitors have already shared their blue cruise experiences with me. By taking the time to fill in the following form you will help others to find a reliable and trustworthy gulet charter company. Your report – and any part of it – will be treated strictly confidential and will therefore not be passed on to the corresponding fleets or any other party.
Thank you for your time !
Report form
Synonyms
Gulets · Motorsailers · Caicco (Italian, plural: Caicchi) · Blue Voyages · Blue Cruises ("Mavi Yolculuk" in Turkish) · Carian Cruise · Caïques · Καΐκι (Greek) · Kaiki · Kayık (Turkish) · Crociere Blu (Italian) · Motor sailers · Tirhandil (Turkish double ender vessel) · Blaue Reise (German) · Motorsegler (German) · Goélettes (French) · Goletas (Spanish)
The best tips
Rent your gulet about 10 months in advance: more affordable, more choice, and options like one-ways or 10 days still possible.
In two weeks [2] you will see three times [3] as much as in one week [1]
For Athens / Argolic Gulf / Cyclades consider a 45 – 54 feet luxurious catamaran charter instead of a gulet cruise. Here catamarans (and also monohulls) are more suited, whereas the wooden motorsailers flourish in the Dodecanese and Turkish waters.
Even in the Greek waters the best gulet cruises start out of Bodrum on Turkish gulets!