Dodecanese sailing holidays
Dodecanese and Eastern Sporades
The Dodecanese - Δωδεκάνησα (Twelve Islands) are located off the south-west coast of Asia Minor → the Ionian and Carian coasts of Turkey.
It includes the 14 larger islands of Lipsi, Patmos, Leros, Kalymnos, Kos, Astypalea, Nisyros, Symi, Tilos, Rhodes, Khalki, Karpathos and Kasos, together with some 40 smaller islets — some with suitable anchorages — and rocks.
The Eastern or Southern Sporades - Ανατολικές Σποράδες include Samos, Ikaria (southernmost) and Lesbos, Chios, Tenedos, Psara, Oinousses and smaller island groups, strung along the Anatolian coasts.
The top yacht charter companies have their bases in Rhodes and especially in Kos. Other charter bases in the area are Bodrum, Marmaris and Fethiye in Turkey as well as Paros and Mykonos in the Cyclades to the west.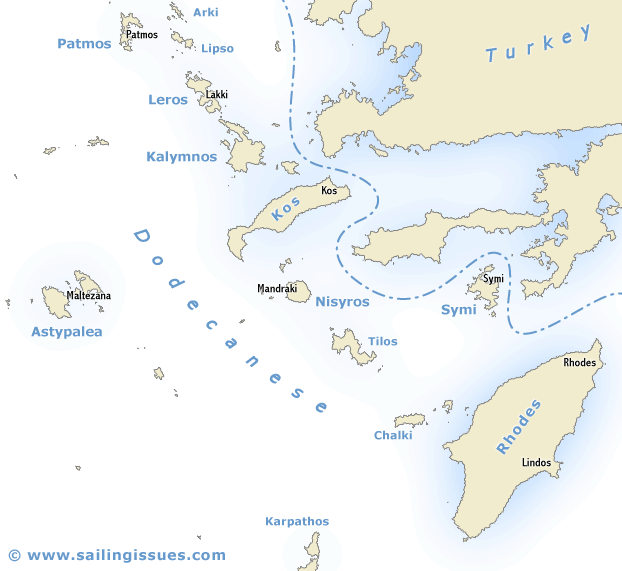 With the exception of Rhodes, which belongs culturally to Greece but geologically to the mainland of Anatolia, the islands are arid and largely barren; the ports and blue anchorages suddenly green, lush in fertile valleys. Their inhabitants live by farming, sponge-fishing (the Dodecanese forms the base of the Greek sponge-fishing fleet), but increasingly, the tourist trade.
Dodecahedron
This word for any polyhedron with twelve flat faces, from
δώδεκα
dódeka "twelve" +
ἕδρα
hédra "base", "seat" or "face", links to the word cathedral,
καθέδρα
"seat" (of the bishop)
… →
Books and nautical charts
History of the Dodecanese
Neither in Greek or in Roman times was the Dodecanese a separate political entity. It was an administrative region of the Byzantine Empire, and it was only when the islands came under Turkish rule in the 16th century that they were given extensive rights of self-government in domestic affairs and gained a common political status.
In 1912 most of the islands were occupied by Italy as a counter-measure to the Turkish occupation of Libya. Under the Treaty of Lausanne in 1923 Turkey formally ceded the whole of the Dodecanese to Italy.
After being occupied by German forces during the Second World War the islands were reunited with Greece in 1947.
These classical islands abound in must-see archaeological sites.
View all Greek isles and my renowned Meltemi storm guide  
First island in the Dodecanese / Eastern Sporades is Chios.