The website
The earliest version of my website – though not yet boasting the name SailingIssues – saw the light in 1998 and featured already a primordial version of the navigation course. As a sailing safety instructor and a member of the Royal Ocean Racing Club the Internet proofed an excellent medium to publish my free course and simply reach more people.
Soon afterwards immense amounts of visitors – like welcome swarms of locusts – stopped by everyday and where learning how to navigate safely.
Then a couple of seasons later – literally fed up with charter nightmares – I added a section on chartering plus a form through which my visitors could report their positive or negative experiences with the companies involved.
Again, it was an overwhelming success and since there was no reliable and independent information on sailing in Greece and Turkey available I decided to put everything I knew online, which resulted in peremptory and award-winning references like my Meltemi survival guide, the Marine Mammals identikit or the Yacht charters guide.
A noteworthy part of the SailingIssues' success was the decision to reject commercial software from Microsoft, Apple, Google, cum suis. Everything has been achieved with GNU Linux: Kubuntu, Inkscape, Firefox, Thunderbird, etc; free, ethical and open source software  .
Furthermore, I am proud to state that this website:
is free from annoying ads
is accessible to the disabled
is hosted on mega fast – but carbon neutral – servers to deal with the immense boatloads of visitors
sails clear of all trackers / cookies such as Google Analytics, etc. that would violate your privacy; this website is really 100% Google, Apple, Facebook, etc. free!
Also honourable: consider making a donation to Kiva, our Burkina Faso Foundation, or my own website, so that you can help keep this useful & critical sailing community online.
The author
To lift a corner of the veil: I took up sailing in the Optimist class at the age of seven and have never stopped since. My addiction reached its zenith when even my studies (Chemistry as well as French literature) were put on hold to participate in European and World championships.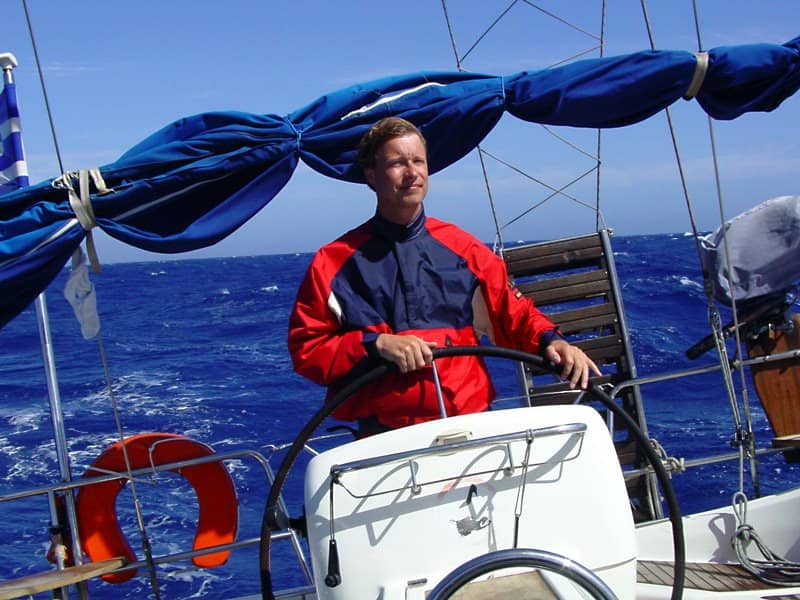 The offshore virus is still present although the attention has shifted slightly more towards cruising than on pure racing.
Instead of continuing a career in professional sailing I now dabble in webdevelopment as an authority programmer, webdesigner and graphics designer.
My other reason d'être is classical music and as a tenor I study under Olard Derks, on a mainly Italian / French / German repertoire, e.g. Hector Berlioz (Les nuits d'été), Franz Schubert (Die Winterreise).
We regularly sail in Greece, Turkey, Croatia, Italy, The Netherlands, etc.
Dedication
The navigation course is dedicated to my beloved father who passed away after an unreasonably long spell of sickness. He was an old stager, who sailed the seven seas himself, and who taught me how to use a sextant and instilled in me the proper respect for the sea.
His ashes were dispersed off the coast of Hydra.
Ten years later my mother's ashes were dispersed at precisely the same coordinates → the two are together once again.