Skip over navigation
Ionian sailing holidays
The Ionian Islands -

Ιόνια νησιά

, also known as the Eptanisa (Seven Islands), are strung out along the west coast of Greece from the Albanian frontier to the Peloponnese. In this westerly situation, with more rain in early spring than most other parts of Greece, the islands have a mild climate and lush growth of vegetation. Only second to the Saronic gulf - Athens, the Ionian is one of the most important areas for yacht charters in the east Mediterranean Sea; for bareboats, flotillas and for crewed yacht charters on gulet motorsailers.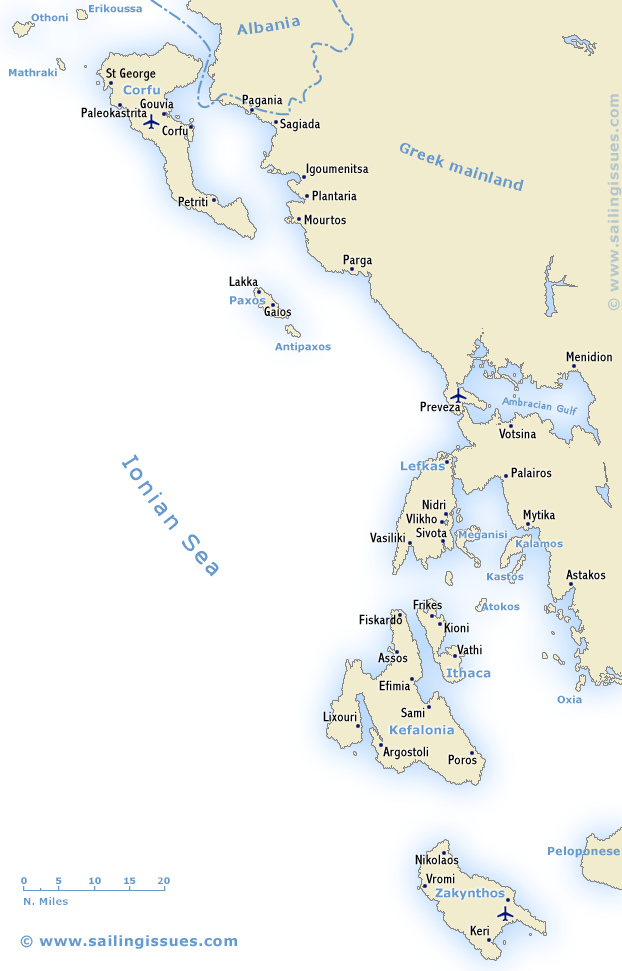 Due to less severe winds than in other regions these islands form the perfect ground for sailing holidays and yacht charters with kids or less experienced crew. The best bases for yacht charters can be found in Preveza, Corfu, Gouvia, Lefkas and Nidri.
Ionian Islands
The charts should not be used for navigational purposes.
History Ionian Islands
Evidence of settlement dating back to Mycenaean times has been found on the islands, but their first emergence into the light of history was in 743 BCE, when Corinth founded the city of Korkyra, later Kerkira. In the 5th century BCE the islands came under Athenian influence, and in the 2nd century BCE the Roman Empire took over.
Later they became under Byzantine rule, and in 1085 were conquered by the Normans; subsequently in 1203-04 the Fourth Crusade brought another change of masters. The islands now fell into the hands of Italian rulers, and came under Venetian control. Venetian rule lasted until the fall of the Republic of St Mark in 1797. And during this period the islands provided a refuge for many Greeks fleeing from the Turks, including artists from Crete who founded a school of their own here, and throughout these centuries they enjoyed a richer cultural life than the rest of Greece.
After an interlude of French rule the young Republic of the Seven Islands became a British Protectorate in 1815; in 1864 Britain returned the islands to Greece.
Preveza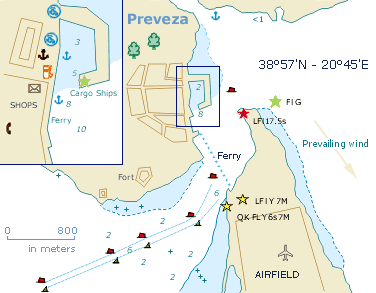 The Preveza port of entry lies on the Greek mainland guarding the Gulf of Amvrakia (Ambracian Gulf). Leading lights will guide your way into this gulf. On the left side of the channel a dense forest and Fort St. George can be seen. Some guides mention a strong cross-current and the channel is not likely to live up to the 'official' depth of 8 meters - due to silting: 5 meters!
Recent reports mention the depth in the Preveza channel to be AT LEAST 9 meters as it is the entrance to the Preveza commercial harbour with 2 or 3 freighters a week. Cross currents maybe 0,5 knot and sometimes current running along with the channel in or out the gulf max 1 to 1,5 knot.
Left & below: Preveza port.


Satellite photos
Nautical charts
British Admiralty Chart 2405
Feel free to contact me if you have any questions or if you want to know more about sailing Greece and reliable yacht charters in this area...
29 March 2019

©
2000 – 2019
Diederik Willemsen
|

Site map
|
A-Z index
|
Register