From Lefkas sailing holidays
The magnificent Sanctuary of Olympia is located on the east coast of the Peloponnese and is visited ideally via the secluded port of Katakolon, opposite to the south-east tip of Zakynthos.
This is however quite a distance from the nearest yacht charter base, Lefkada city, and a two week Ionian sailing itinerary out of Lefkas island is required. From Katakolon taxis are eager to drive us yachtspersons to the actual archaeological site further inland but renting a motorbike / scooter offers more freedom.
Alfeios river – the longest river in the Peloponnese – begins in central Arkadia and flows via Olympia in the Ionian Sea. The river Kladeos (named after the water-god Κλάδεος) flows from the north, through Olympia and empties into the Alfeios River. The river Kladeos has flooded the site and town of Olympia many times in history.
The site is home to a wide variety of buildings ranging from treasuries at the base of the Kronos mountain and temples of Hera and Zeus, a hippodrome and even a later stadium → the origin of the olympic games.
Especially ancient temples and archaeological sites such as Olympia make sailing in Greece so grand and spectacular. Reputable yacht charters from Kos, Athens and Lefkas give the best access to such historical sites.
A further possibility is an advanced 3-week itinerary: yacht charters out of Lefkas towards Athens and sail along the whole of the southern Peloponnese.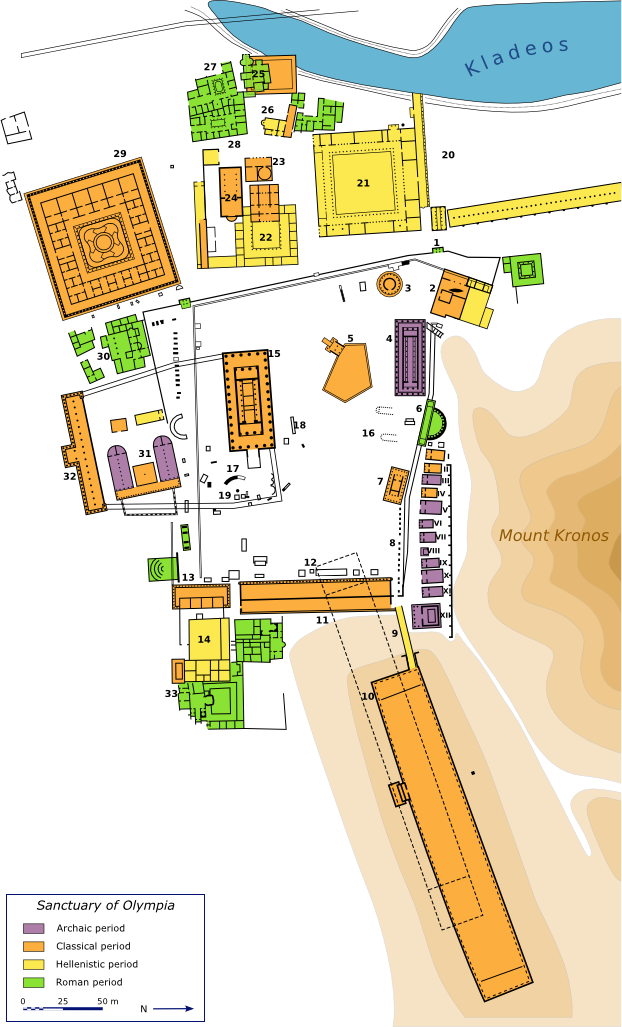 Legend
:
NE Propylon
Prytaneion
Philippeion
Heraion
Pelopion
Nympheum of Herodes Atticus
Metroon
Zanes
Crypt (arched way to the stadium)
Stadium
Echo stoa
Building of Ptolemy II and Arsinoe
Hestia stoa
Hellenistic building
Temple of Zeus
Altar of Zeus
Ex-voto of Achaeans
Ex-voto of Mikythos
Nike of Paionios
Gymnasion
Palaestra
Theokoleon
Heroon
Phidias' workshop & paleochristian basilica
Baths of Kladeos
Greek baths
Hostel
Hostel
Leonidaion
South baths
Bouleuterion
South stoa
Villa of Nero
Treasuries
:
Sicyon
Syracuse
Epidamnus?
Byzantium?
Sybaris?
Cyrene?
Unindentified
Altar?
Selinunte
Metapontum
Megara
Gela