Skip over navigation
Assisted bareboat charters
The ideal compromise between a flotilla and a true bareboat charter is the assisted bareboat charter. You will still be able to fall back on a flotilla leader, but with much more room to sail your own itinerary and visit the anchorages and ports that you prefer. Moreover, the compulsory fleet diners can be avoided and with these assisted bareboats it is also possible to enjoy some free sailing time.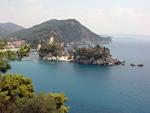 Further advantages are the maximum of 4 yachts per assisted flotilla fleet, and the routes which are certainly a lot more challenging than the regular flotilla itineraries. This allows you to visit a lot more interesting islands and smaller picturesque ports and anchorages. Both under sail and in port the flotilla fleet leader will guard over your safety, taking some of the responsibility of you.
The best assisted bareboat charters can be found in the Ionian, out of Lefkas.
Be sure to study my anchoring and mooring course, as well as the first 5 chapters of my navigation course!
For more info on assisted bareboats visit my yacht charters page.

10 March 2017

©
2000 – 2017
Diederik Willemsen
|
Site map
|
A-Z index
|
Register