Skip over navigation
The seabed - where to anchor
Since a good anchor digs itself into the seabed we're interested in more than just the upper layer.
Shells, weed and sea grasses might prevent an anchor from grabbing. But once through, the anchor can dig itself into the lower sandy, mud, peat, cobbles, stony or clay bottom, each with different holding characteristics, requiring different anchor types.

Mud, for instance will provide better holding than peat - which is often too watery - yet usually we cannot pick the seabed.


Moreover, the seabed might even be unusable for anchoring, as is the case with cables, telephone lines or pipelines, which will be indicated on the nautical chart as illustrated on the right.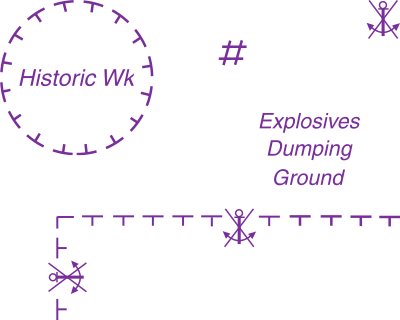 Other reasons why anchoring may be forbidden are an explosives dump area or a historic wreck, or simply because anchoring will block the passage.
Also the seabed might be foul, which is indicated on nautical charts by a #, marking perhaps old chains or simply polluted ground below.
Likewise you should avoid naval (submarine) exercise areas, nature reserves, precious coral and areas with divers down (see the "A" flag and "diver down" flag).

Types of seabed
S
Sand
M
Mud
Cy, Cl
Clay
G
Gravel
Co
Coral
Cb
Cobbles
Sn
Shingle
P
Pebbles
St
Stones
Rk, Rky
Rock, Rocky
Ch
Chalk
Sh
Shells
Wd
Weed
S/M
Two layers (example: sand over mud)
Kelp
Spring in seabed
Qualifying terms
Note that lowercase letters are used for these qualifying terms.
| | |
| --- | --- |
| s | small |
| f | fine |
| m | medium |
| c | coarse |
| h | hard |
| sm | small |
| bk | broken |
| v | volcanic |

Thick mud, clay and sand will provide good holding, as will pebbles once the anchor is deep enough.
A rocky seabed might perhaps provide even better holding, but also increases the risk of a permanent mooring when the chain or anchor itself gets jammed under a heavy boulder.
Therefore, especially when dealing with (volcanic) rocks, the use of a trip line or tripping line is recommended to enable you to retrieve your anchor.

Thick layers of shells are rather useless: at least with seaweed and grass the anchor has a chance to penetrate into the more suitable layers underneath.