Athens bareboat vacations
Logbook 2
Skip over navigation
Part 2 Milos - Paros
This is part two of the logbook that describes Bill Hone's bareboat sailing vacation out of Athens Alimos marina into the Cyclades, Greece.

Part one: Athens - Milos
Part two: Milos - Paros
Part three: Paros - Athens

Sept 24 – Milos to Ios
Last night in the harbour was quiet. We're up by 07:00, have a quick breakfast, check the boat over and along with Hydra, depart at 08:00 as planned.

By 09:00, we're out of Milos bay. We turn onto the 90 degree course to Ios with 5 kts of wind right on the nose! Guess we'll have to use the "iron breeze" again today. This means about 9 hours of motoring at 6 kts. Oh well, sometimes c'est la vie on a sailboat.

It's a cool day with thin cloud cover - too chilly for just shorts and a t-shirt in the cockpit. The diesel rumbles on and the hours pass along with Aegean water under our keel. As the afternoon develops the temperature rises and the day becomes more pleasant.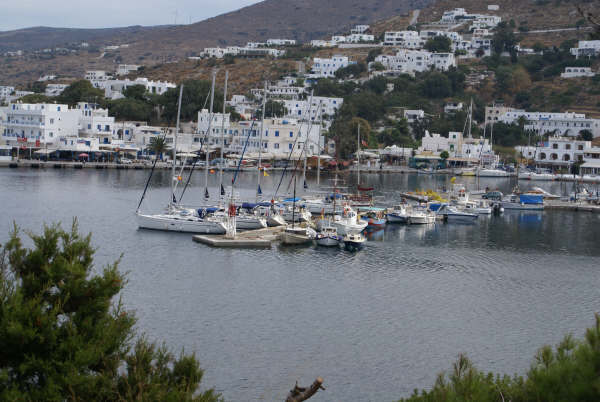 Ios is a delightful place outside August.
We reach Ios at about 16:30 and on a second attempt manage to execute a credible Mediterranean mooring. This requires us to drop and set the anchor a couple of boat lengths away from the quay, then back up to within about a metre of it and secure the boat to it with two lines, one off each side of the stern. In a cross wind this requires some coordination of activity by Jim on the foredeck and me on the wheel and throttle – especially when we're trying to back the boat into a narrow space between two other boats already tied up. It helps if there are people on the quay willing to catch our stern lines and loop them through whatever rings or cleats might be there.
Apparently during the summer season, Ios is "party central". There's a nice looking campground for backpackers but none are in evidence. We understand there's also a "clothing prohibited" beach about a km out of town. Sadly, we'll not have time to visit it. Ferries are arriving from / going to other Cyclades islands. We find a good super market, replenish our larder then eat dinner at a small café nearby.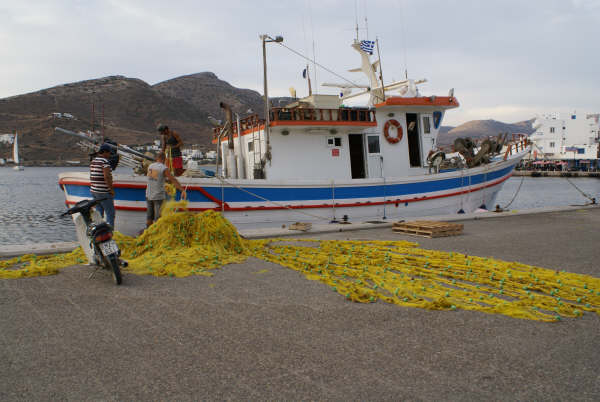 Ios sailing in the southern Aegean.
According to the weather forecast, there's a good chance we'll get 2-3 days of strong north winds (the Meltemi?) so we and our friends on Hydra decide that tomorrow we should go to a tiny island south of Naxos called Skhinousa - Schinoussa - Σχοινούσσα (funny name) where we can hide in sheltered Mirsini Ormos (bay). It offers good protection from the NE through NW directions. One final glass of ouzo and to bed in a light rain shower.
Sept 25 – Ios to Skhinousa
It's warm, calm and cloudy when we arise at about 08:00. Several fishing boats came into port last night and their yellow nets are either spread out or piled on the pier. Other pleasure boats arrived too. The harbour is now nearly full.

Jim and Nora walk to an internet café to check and send some emails hoping it will work better than it did yesterday afternoon. It doesn't. Pat and I walk to a big white church a short distance from the pier. We're able to get up on walls surrounding the church and take some pix of it and of the harbour with a colourful little fishing caique departing, probably to seek a finny supper.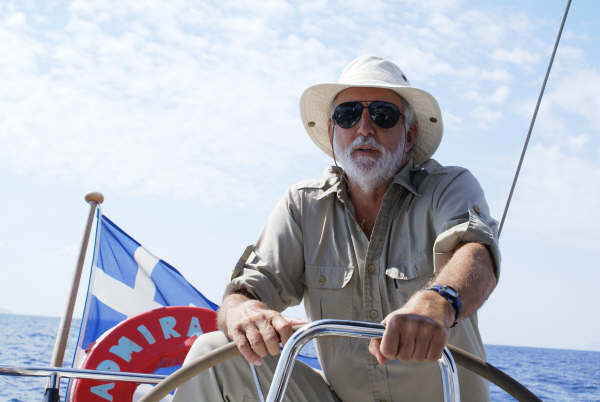 We cast off our mooring lines at 10:00, drag the anchor up out of the mud and start toward Mirsini Bay at Skhinousa. It's only a 22 nm trip and with a light breeze right on the nose, it will be a short "drive" without sails again today. Motoring is getting to be a habit.
Four hours with the diesel thumping below us gets us to Mirsini. There's no pier so we anchor in 4.5 m of crystal clear blue water. Time for rehydration. We take the dinghy ashore, walk up a steep hill to the hora (the toponym for the main town on an island) and wander around its narrow streets. We stop to cool and quench at the Margarita restaurant and from its deck we get a fine view over a long slope down to the water we just sailed through. Strangely there are a couple of windmills in sight – probably for pumping water.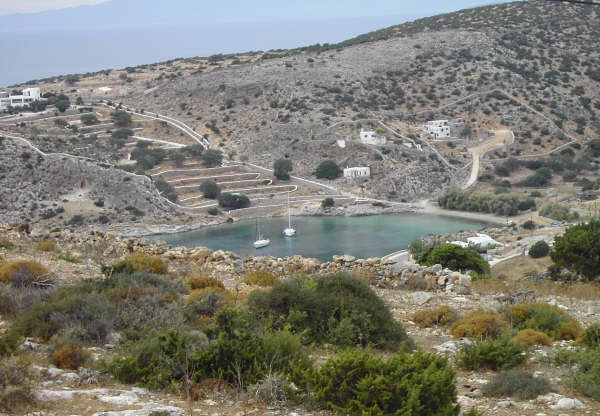 Little Cyclades sailing vacations.
Back down the hill and past an inquisitive donkey who with a baleful look, poses for a picture. We take a cooling swim in the clear water of the bay.
The evening passes with drinks and nibblies on Hydra followed by a seafood salad dinner on Admiral III.
Sept 26 – Skhinousa to Paros
Another gorgeous day is commencing with a clear blue sky and light breeze. The Meltimi has not developed as forecast so there's no need to stay here for protection. We decide to go to Paroika Bay at Paros, a 37 nm trip requiring 6 course changes. I use the GPS chart plotter to set up some waypoints. Our complex path will take us between Naxos (which we decided not to visit) and Paros, then along the north side of Paros to the west side where Paroika Bay is located.

Up anchor at 09:30. Our first course is 300 degrees and the wind is also 300 degrees at 6 kts. Damn - right on the nose again! More motoring, at least for a while. In normal conditions the wind would be from 45 degrees and we'd be able to sail on a nice broad reach.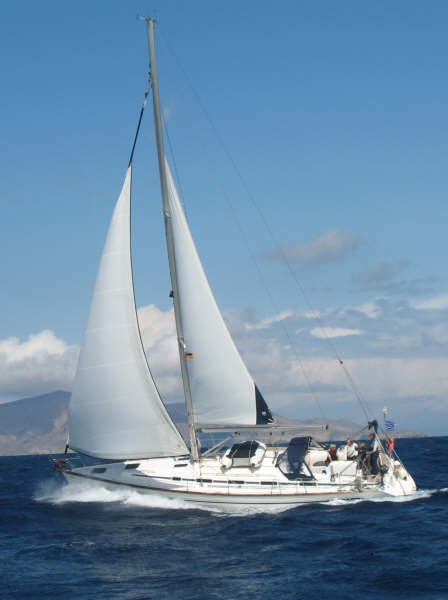 Paros sailing holidays and yacht charters !
After altering course to follow the west shore of Paros the wind favours sailing. We pull out the "canvas" and get a good hour of fine sailing without the motor. By 16:00, we're in Paroikas port and execute a fine Med mooring maneuver. We're getting better. Time for a celebratory Mythos.

We call the fresh water supplier and he brings his truck to fill our tanks, now depleted by cooking and a few showers. €13 - beer might have been cheaper! A short walk to town is now in order. As usual, the streets are narrow and labyrinthine but neat and clean. Many nice looking shops sell clothing, jewelry, art. The Apollon Garden Restaurant is really good - fine dining at last! An excellent rare steak for me (€35 and worth every penny). We'll stay here for at least tomorrow morning and wander around to see other parts of town.

Story and photos by Bill Hone from Canada

Part one: Athens - Milos
Part two: Milos - Paros
Part three: Paros - Athens

Other logbooks: 1,2,3,4 1,2,3 1,2,3,4,5 1,2,3 1



©

2000 – 2021

Diederik Willemsen

|

Site map
|
A-Z index
|
Register