Athens bareboat vacations
Logbook 3
Skip over navigation
Part 3 Paros - Athens
This is part three of the logbook that describes Bill Hone's bareboat sailing vacation out of Athens into the Cyclades, Greece.

Part one: Athens - Milos
Part two: Milos - Paros
Part three: Paros - Athens

Sept 27 – Paros to Siros
Up at 07:00 because for the first time, we've decided to go ashore for breakfast rather than make it in our galley maybe to celebrate having been on the boat for a week. This turns out to be one of those triple bypass morning meals – fried eggs, bacon, toast and jam and coffee. Really good! Over breakfast the 4 of us discuss the past 7 days and agree that this is turning into a great experience with much learning and sight seeing in a beautiful part of the world.

We walk around town for a while and visit a church erected in 300 AD. It now houses 3 religion related functions in the one large building – a Greek orthodox church, a Catholic church and the Baptistery. It is called Panagia Ekatontapyliani. I know – I can't pronounce it either (Edited: our "all holy" lady of the hundred doors). We walk to the beach past about a hundred tavernas that would probably all be busy during the high tourist season but are now either empty or closed.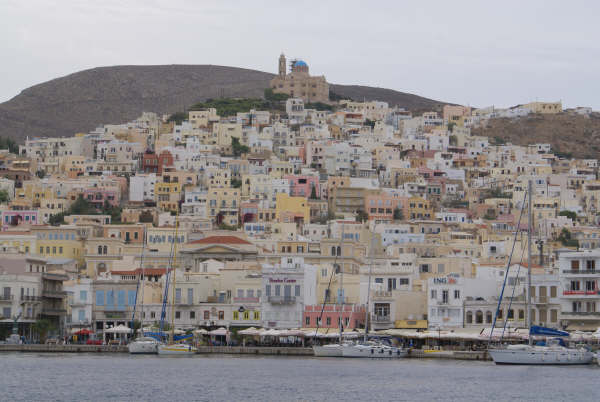 Syros, like Paros, is a small yacht charters base within the Cyclades. Handy for the smallest itineraries: one week.
A check of the weather forecast at the Port Authority office tells us that the expected wind strength and direction do not favor a visit to Mykonos tomorrow. Plan B is to go to Siros (Syros) about 25 nm northwest of here where we understand the harbour is good for the expected conditions.
We depart Paroikas at noon and spend the next 5 hours motoring directly into wind at 15-20 kts with waves increasing steadily in the long fetch between islands. It's chilly today so we need more clothing than we've needed before now. Hydra is well behind us, tacking back and forth across the wind and probably having a good sail, likely with the lee rail under water.
We finally get through the opening into Ermoupolis Harbor. This has not been a pleasant day on the water and we're all glad it's over. We moor Mediterranean style at the concrete "shore" and relax. For a while we wonder if Hydra has turned back to Paros but they eventually appear. We're all beat so we decide to forego a taverna dinner tonight and make a light meal on board.
Much activity and noise at the drinking and dining establishments on the quay behind us. This goes on and on and on - until about 04:30!
Sept 28 – Siros
Over breakfast on a cloudy cool morning, we discuss our options for the next 6 days. Today is Sunday and we must have the boat back to Alimos Marina at Kalamaki by Friday evening. We visit the Coast Guard office to get a weather forecast and then check their information against a weather site at an internet café. Both sources agree that the wind will be strong today. We conclude that we should stay here in Siros and explore the town.

Pat and I set out by ourselves while Jim and Norah do some internet work and then go off on their own. We'll all meet back at the boat sometime later. We take a major walk mostly up hill along the water, east of the harbour area. Some of the streets are very skinny - no wider than a big man's shoulders. Most homes are beautifully built and maintained. Many are painted in different pastel shades unlike in other island towns where they are nearly all white. Mixed in with these are some dilapidated buildings and a few that are sort of tumbling down after God knows how many centuries of neglect.

Back to the boat to meet Jim and Norah for lunch. Gyros at an open air table on the quay not far from where we're moored make a fine big, filling lunch. We re-board Admiral III for an hour of reading and snoozing during the now warm and sunny afternoon. A big cruise ship arrives and glides slowly up to a new extension of the quay a block or so from us. A mob of people begin to disembark for a look around Siros. I walk over to the boat and encounter a couple of elderly women one of whom lives in Ontario not far from Picton. Amazing! She tells me the boat has come here from Cyprus and will be in port only for the day.

We enjoy a good meal with our friends from Hydra at an outdoor restaurant a block or two up from the quay, then we all walk back to a taverna behind the boats for coffee and ouzo. Pat and I head off to bed but Jim and Norah continue quaffing with the Germans for a while longer.
Sept 29 – Syros to Kithnos
Today we'll return to Kithnos, the first of the Cyclades Islands we visited over a week ago. It's a 37 nm trip. Wind is forecast to be 5 on the Beaufort scale so we should have a really good sail!

Nice start to the day with bright sun and a few puffy cumulus clouds. We get underway at 09:30 and motor along the east side of Syros to our first waypoint at the north tip of the island. Here we turn west and hoist sail for what we expect will be a 6 hour close reach.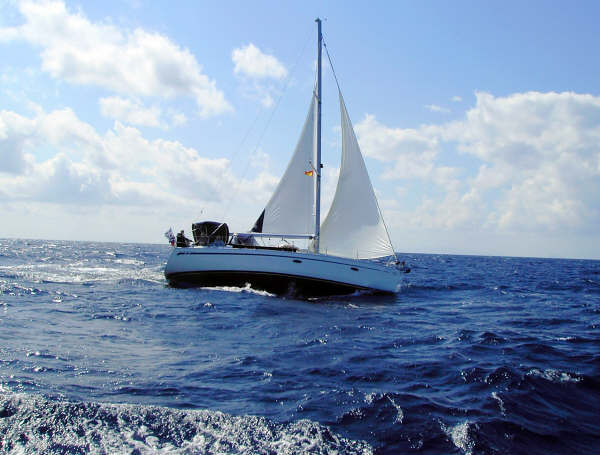 After 6.5 hours of fine sailing, we get the second last available mooring at Kithnos. It is now quite cool and we're glad to be out of the wind and moored in Merichas harbour.
Sept 30 – Kithnos to Hydra
At 08:45, we slip out of Kithnos harbour and set course at 264 degrees to a marker light at the east end of Hydra Island some 38 nm away. Hydra is at the bottom of the Peloponnese where the Saronic and Argolic Gulfs merge and we would have visited it with the flotilla. It's a beautiful clear sunny morning but there's no wind, so we may have to motor for quite a while today.

11:00 and still calm – both wind and sea. We're motoring at 6.5 kts with 25 nm to go – probably about 4 more hours. Pat and Norah suggest grilled cheese sandwiches for lunch. They're able to go below and prepare them while we're underway because there's minimal boat rock and roll on the boat today. Several islands are visible around us - sort of like boating in the BVI.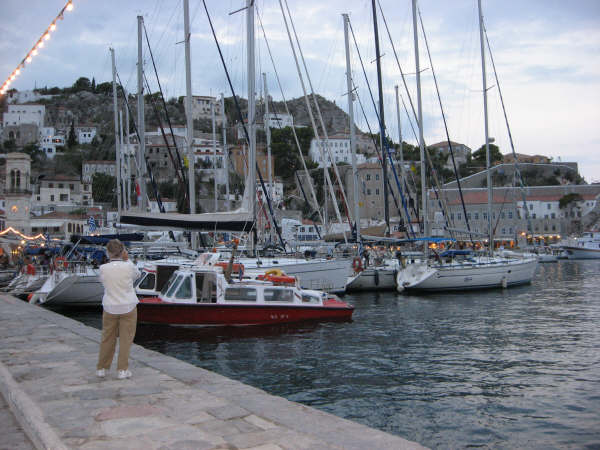 Popular cruising venue: Hydra. Lots of charter yachts visit in the summer.
We arrive at Hydra to find that Limin Harbor is full of boats - they're packed two and even three deep at the quay! We were warned that this could be the situation here. We do a tight circle in the harbour to see if there are might be an opening but can't find one. This is not for us. We exit the harbour and go back about a mile to Mandraki Bay which we passed on the way here. It's an overflow location for boats that want to visit Hydra, but can't find a place in the town harbour. We circle around the bay looking for a decent place to anchor. Our first attempt is not acceptable - the water is deep and we need to deploy so much rode that we'd risk swinging into other boats if the wind changed during the night. We finally decide to back the boat up toward the rocky shore, set the hook and run a couple of stern lines to the rocks. This we do… very carefully so we don't ding the keel or rudder. Hydra comes alongside and we help them do the same thing.

Hydra is a must-see when sailing the Argolic Gulf.
We take a water taxi back to Limin Harbor where Tina knows of a restaurant with outdoor tables high on a hill overlooking the water. We have a fine meal with a nice view as the sun sets over the harbour. We take the water taxi back to our boat at about 10:00 and call it a day.
Oct 01 – Hydra to Poros
We're up at 08:30 on a warm but cloudy, humid day. Bacon and eggs for breakfast on the boat.

We decide to walk from Mandraki Bay to town, an up and down trek of about 1 km that takes 35 minutes. We wander around town wishing it were sunny for better pix. Bugs have chomped ferociously on Norah's legs but haven't bothered the rest of us – not even Pat who is normally a bug magnet. Norah allows as how she doesn't mind being miserable but would surely like some company.

Much window shopping along the cobblestone quay, but no buying. This is clearly a tourist town and things are expensive. There must be 100 jewelry stores plus the usual T-shirt and cap emporiums. Donkeys are everywhere because there are no cars allowed on the island of Hydra. We stop for coffee on the quay (€2.70 a cup!) and then head back to Mandraki Bay on foot. Lots of exercise this morning.

Poros is a stepping stone for sailing the Argolic Gulf.
We hoist the hook at 13:00 and set out east and then north for Poros only 14 nm away. At 15:00 we pick our way carefully through a narrow, shallow channel into Poros harbour. There's green vegetation on the slopes on this side of Peloponnese - very different from the arid brown landscape we're accustomed to seeing most everywhere we've been. It takes us 3 tries to get a good anchor bite here because the bottom does not provide consistently good holding. Finally we get ourselves attached both to the sea bottom and the concrete quay. We invite our Hydra friends for drinks on our boat then get connected to shore power and fill our fresh water tanks.
Dinner tonight is at a family owned restaurant called "The Butcher" apparently known for its steaks and other cuts of beef. We treat our friends to this dinner to say thanks for all the assistance they've provided since we departed Kalamaki. Unfortunately the meal does not live up to expectations. It's ok, but not great.
Oct 02 – Poros to Epidavros
We're unsure whether to stay here at Poros for another day or depart and go a short distance north to Epidavros part way up the east coast of Peloponnese. An 8-way discussion ensues and we all agree to go later today. Epidavros is only 22 nm away so we need not rush.

We all wander off in different directions around the town for an hour or so. I head back on a sidewalk along the narrow channel we passed through yesterday. Fishing boats with fresh-caught fish are tied up all along here selling their morning catch. Hope I got some good pix. Pat goes off to do the internet thing.

We depart Poros at 11:00 past a mega yacht anchored nearby with a helicopter on its after deck. I guess some people have infinite funds. Hope we can sail when we get out of this huge harbour and into the Saronic Gulf. At the moment, it's hot, hazy and humid without enough wind to fill the sails so we go along, motivated by the "iron breeze" for a while. We soon hoist sail just to dampen the tendency of the boat to roll in the starboard quartering waves. The wind eventually freshens and we get an hour and a half of fine sailing at 6-7 knots on the last leg toward Epidavros. We arrive at mid afternoon, drop and set the hook, then back slowly into a tight opening between two other sailboats already at the quay. Pat and I walk to a nice swimming beach about a half km from the boat and have a refreshing dip in the sea followed by a fresh water shower at a facility thoughtfully provided by the town.

Back to the boat for cheese, crackers and wine in the cockpit. Does it get much better than this? The 8 of us dine at a local taverna. I order what they call "fried picarel" which turns out to be a plate piled high with tiny whole fish like smelts. They're quite good, bones and all.

Back to Hydra for a nitecap, then to Admiral III. At 03:00 I'm wakened by rain falling through the open hatch above my bare back and scramble to button everything up. Big snuggle with Pat, then back to sleep. All is well.
Oct 03 - Epidavros to Alimos Marina
Our last day on the boat breaks clear and sunny but there's thick haze off in the distance. Not sure if this means anything. Leftovers for breakfast this morning, then we get underway out of Epidavros on a 50 degree course back toward Alimos Marina. Not enough wind to sail yet. Our course takes us past the island of Aigina - Aegina, the first island we would have visited on the flotilla.

At 12:30, we're still motoring in a light breeze. Guess there'll be no sailing on our last day aboard. We pass a line of 20-25 freighters apparently lying at anchor awaiting entry to Athens / Piraeus which we can now see sprawling along the coastline some 12 nm ahead of us.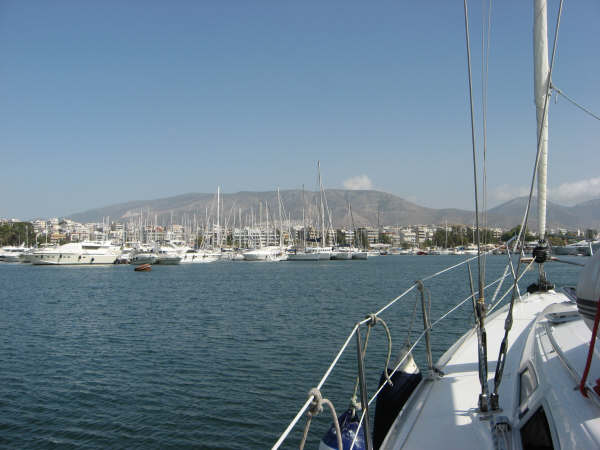 Athens is the best charter base and offers all charter yachts and catamarans.
The GPS leads us right to the narrow marina entrance and we work Admiral III slowly back into its narrow slip without difficulty. Our new boat handling skills stand us in good stead with lots of onlookers including the owner of the boat watching what we're doing.
Our sailing adventure is over. It has been wonderful and we're sorry to see it end! All that remains is to have the boat inspected tomorrow to confirm no damage has occurred. We'll spend tonight on the boat and depart tomorrow morning. We "dine" at a mediocre restaurant at the marina and head off to bed early.
Some comments on our sailing experience…
We all agreed it was a fabulous adventure and that the decision to go "bare boat" was the right one - probably much better than the flotilla experience would have been. We learned a great deal about Greece and about sailing in Greek waters.

Our choice of time of year to sail in Greece was ideal. The weather was mostly comfortable and there were no hordes of other tourists as we understand would have been the situation even just a few weeks earlier

We had little difficulty with the language. Most Greek people understand enough English that we could communicate effectively, if not always efficiently. The majority of tourists in the islands were German - very few other Europeans, Asians or blacks. No beggars or panhandlers anywhere.

The islands are rocky, rugged - even mountainous, arid looking and with little soil. All the island towns have a similar appearance. The houses are scattered along narrow streets up the hillsides from the harbors and from a distance they resemble a jumble of little kids' toy blocks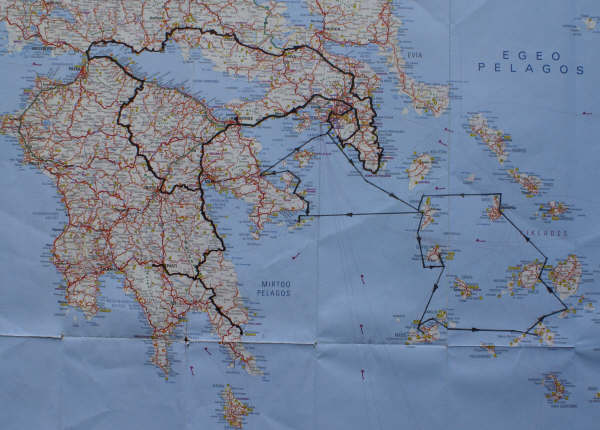 A Grand tour of the southern Aegean of Greece: spectacular sailing with a rental yacht.
Jim commented that our boat had more complex controls / equipment and a higher level of technology than he expected and that sailing here is very different from sailing among the islands on Canada's west coast – e.g. deeper water, longer distances. The technique of Mediterranean mooring was a new experience to us all.

Norah expected the weather to be warmer than it was most of the time and also that the sea conditions would be calmer than they were on occasion. Overall however, she described our trip as exciting and enjoyable.

Pat found the whole Cyclades area and the islands to be more "vast" than she had expected.

The four people sailing on Hydra were fine companions. The advice and help they gave us based on their sailing experience in Greece and the Cyclades was Wunderbar!

Story and photos by Bill Hone from Canada

Part one: Athens - Milos
Part two: Milos - Paros
Part three: Paros - Athens

Other logbooks: 1,2,3,4 1,2,3 1,2,3,4,5 1,2,3 1



©

2000 – 2021

Diederik Willemsen

|

Site map
|
A-Z index
|
Register